Dodoni
Divine Greek ice cream since 1967
What Makes Dodoni Ice Cream Divine?
What Makes Dodoni Ice Cream Divine?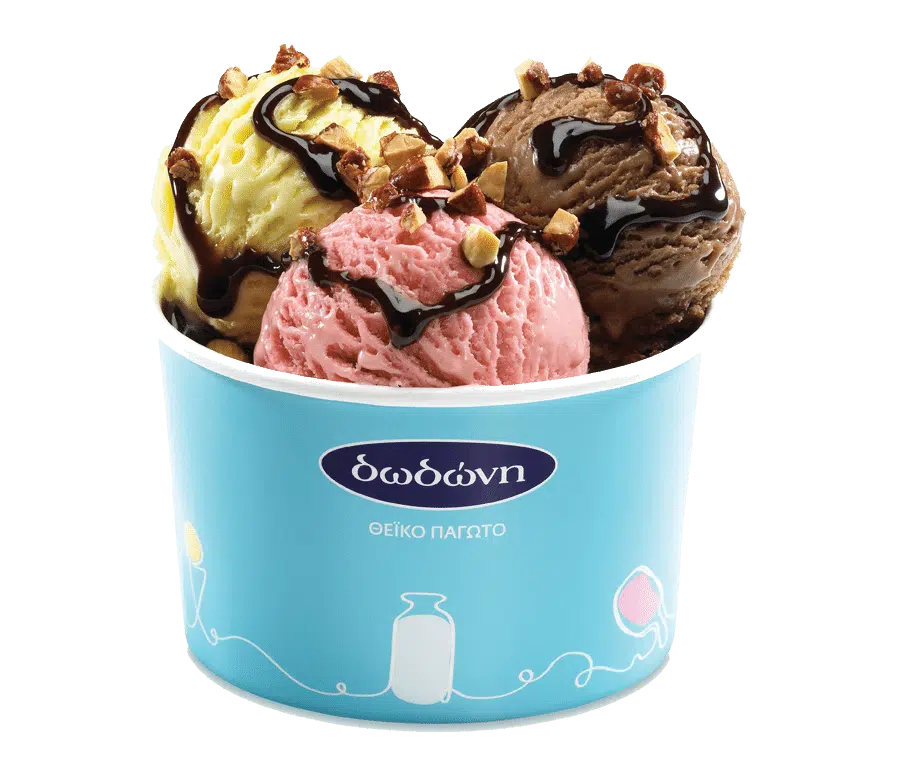 New Flavors 2023
The Italian limoncello liqueur became a wonderful refreshing sorbet with a light lemon flavor ideal to ``cleanse`` the taste palette after every meal.
Read More
Our History

Τhe company's activity started with the opening of its first dairy boutique in the center of Athens at Kipseli, under the name of Dodoni. In its original form the small dairy shop, had only three tables and was selling milk, cream, yogurt, rice pudding, eggs, and traditional desserts such as galaktoboureko, kantaifi, baklava, but also platters for ouzo! Combining traditional recipes from their place of origin, with fresh ingredients from all over Greece, purchased from the Municipal market of Fokionos Negri area led the owners to experiment in exquisite and unique flavors of ice cream.

Our History

Production and distribution of ice cream begins on a small scale. Among the first flavors selected was the cream parfait, which would not be long before it emerged as a flagship product for the company, which would see its fans waiting patiently in the queue outside the store, to buy it. In fact, there were also people who even bought it upon making to freeze it at home so they didn't have to wait.<br /> In a short period of time, news about the ice cream with the "divine taste", as the cream parfait and the cream sprinkled with instant coffee, spread all over Athens, attracting more people every day. Celebrities like Dionysis Papagiannopoulos, Mimis Plessas, George Stavridis, George Constantinou, Iakovos Kambanellis were customers of that little ice cream store, as well as Jenny Karezi, with whom there was also business cooperation, for catering her theater canteen.

Our History

The original logo designed by a member of the family, was red, with the second ``O`` of the brand forming an ice cream cone (a few years later the logo would acquire its current form). Ice cream was stored in bulky 15kg metal containers before being replaced in the following years with the most practical 8 kg plastic containers

Our History

The years that follow, dodoni was rapidly developed and led to transferring facilities to the spacious are of Pallini.

Our History

The 1st corporate store is opening as a gelateria in Kifissia and the 1st franchise store in Chalandri. On 1986 new pioneering ice cream flavors are being launched: yogurt ice cream and mango sorbet.

Our History

Along with the "divine" Dodoni ice cream, the company starts producing frozen- traditional sweets, as well as bakery products being distributed through a network of 165 franchise stores. The brand is established as the best ice cream regarding taste and quality in Greece, acquiring a 98% awareness.

Our History

Having more than 400 wholesale points and without the slightest advertising effort, dodoni managed to be well-established in the ice cream industry and acquire 17 franchise stores. Indicative of this success was the fact that the first advertising campaign on radio and posters was made onn 1993, while on 1995 the famous pin-up girl became viral all over Greece enjoying dodoni ice cream.

Our History

Dodoni introduces a new production technology and creates a microbiological and chemical self-control laboratory in its facilities.

Our History

Gets its 1st certification according to ISO 9001 by Bureau Veritas

Our History

In the late 1990s, dodoni was no longer a family business when the 3 owners: Vassilis Bletsos, Sophia Xita and Kostas Bellos, sold the company to an investment group (in 2007 was resold to NBGI group, of National Bank of Greece). Packaged ice cream was also launched, while the network exceeds the 80 franchise stores.

Our History

New model design for network renovation. Dodoni network owns more than 160 ice cream stores all over Greece.

Our History

Gets its 1st HACCP certification under the standards of ISO 22000 to ensure the hygiene and quality of its products

Our History

The company is being expanded by producing a wide range of sweets and snacks, while the stores are renewed and transformed into Dodoni Café offering complimentary to ice cream, a full range of coffee and beverages list.

Our History

Fire breaks out, destroying part of the production unit. Production activity not only stopped but the year ended with an increase in sales while total ice cream market recorded an overall sales decline. Staff is now over 100 people. That was the year a new, breakthrough brand was created and launched by dodoni. The revolutionary and successful chain of frozen yogurt called Chillbox with the fuchsia square packaging and DIY concept.

Our History

Factory renovation. New collaborations & innovative products. New communication campaign.

Our History

Τoday, 56 years later, facing great success and various difficulties, dodoni continues to create ice cream with the same love and strictness so as to offer the unique taste of outs ice creams to every Greek or foreigner who prefers us.